What are the technical characteristics of the CO2 compressor?
Views:4 Author:Site Editor Publish Time: 2020-09-15 Origin:Site
We offer a variety of purity and concentration of compressed carbon dioxide gas. Many industries could benefit from the inert nature of the CO2 compressor and its ability to cool and freeze.

Here are the main points of the article:
What are the features of the CO2 compressor?
What is the development history of the CO2 compressor?
What are the common hazards of the CO2 compressor?
1. What are the features of the CO2 compressor?
Carbon dioxide is part of the atmosphere and is vital to life. It has no ozone-depleting potential and negligible global warming potential, so carbon dioxide has no regulatory responsibility, like HFCS. There is no need to consider the amount used, and there is no need to recycle. The features of the CO2 compressor are as the follows::
High strength ductile iron housing for high pressure side up to 130 bar for high pressure operation
Wear resistance, long-life mechanism
Provide reliable and safe oil supply through pump lubrication
Good running characteristics through solid overall construction
The proper size of the drive motor, available in suction air-cooled or air-cooled versions, is replaceable
Suction and discharge connections for compression fittings for steel tubes (no globe valve)
Pressure relief valves in the suction and discharge areas
Electrical connection box with motor protection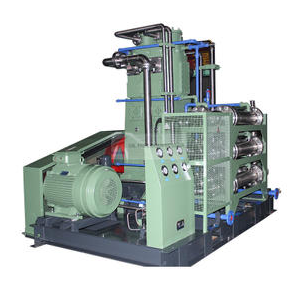 2. What is the development history of the CO2 compressor?
Since the 1990s, companies have been working with leading research institutes and manufacturers to develop compressors for trans-critical CO2 processes. In 1993, the first open carbon dioxide compressor was manufactured for bus air conditioning, and then demonstrated to the public. Since then, such CO2 compressors have been field-tested and have become the basis of much carbon dioxide research by international agencies. In 2002, there was a further stage of development to turn this CO2 compressor into a semi-sealed version of the stationary test application. The current CO2 compressor generation (suction gas and air cooling) is based on the experience since then.
3. What are the common hazards of the CO2 compressor?
Air compressors like CO2 compressors are useful in many jobs, but they can also become dangerous if not properly maintained or used. Compressors, hoses, pneumatic tools, and electrical connections can be dangerous in the workplace. Air compressor accidents can potentially cause injury to workers and machinery. Some of the most common hazards associated with air compressors include electrical hazards, smoke, flying particulates, high pressure and high noise levels.
Electrical dangers: If a socket is not properly grounded, it may cause an electric shock to your operator or irreparable damage to the machine. Also, be sure to follow the instructions in the user's manual for using extension cords.
Fumes: Gas- and diesel-powered compressors create dangerous fumes, so it's important that you only use them outdoors.
High pressures: If high pressure air is injected into the body, it can lead to dangerous conditions and injuries, such as air embolism, ruptured eardrums and ruptured organs.
Noise: Noise from CO2 compressors can also cause hearing loss.
Our experienced application teams around the world can leverage their industry and application knowledge to provide you with CO2 compressor supply and technical solutions to meet your unique needs.